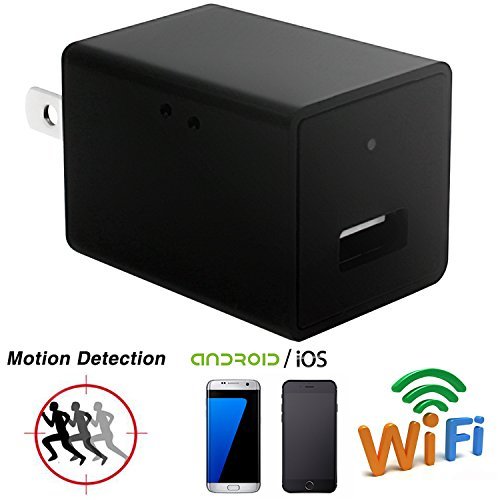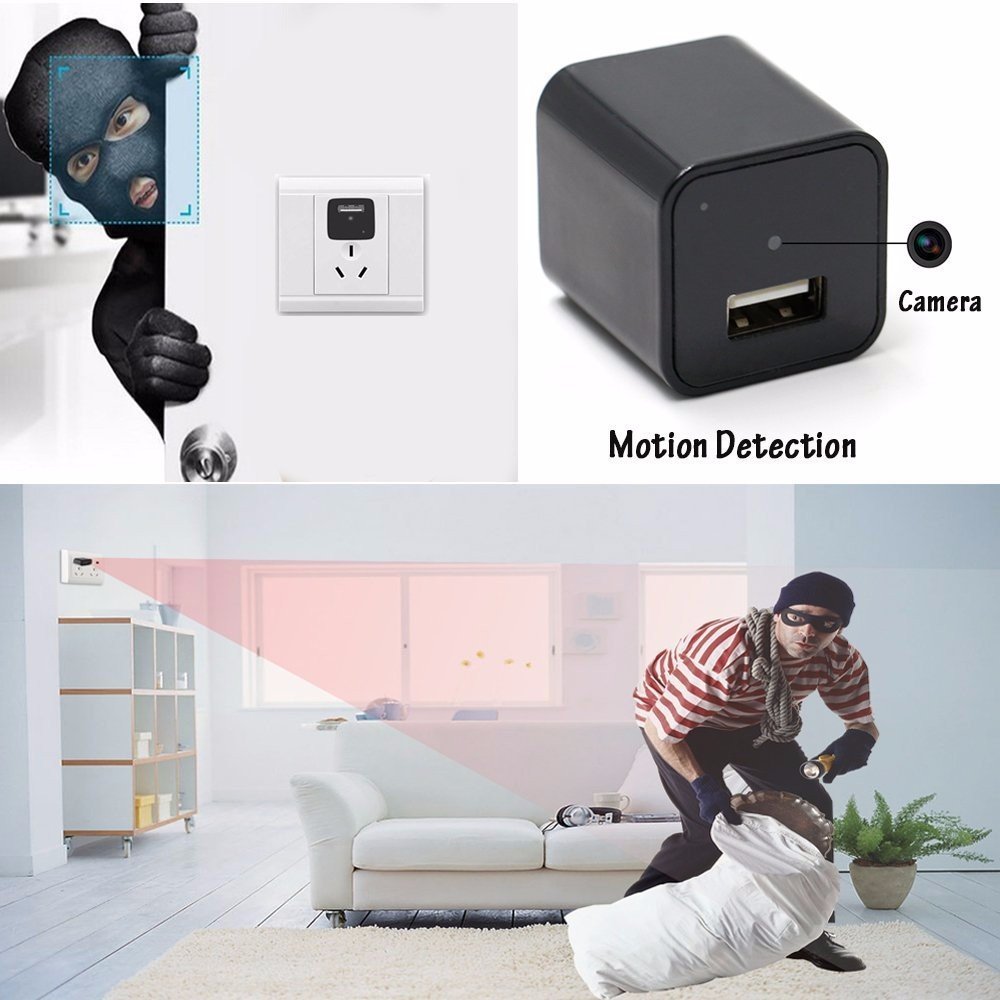 Hidden Camera:Spy Nanny Recording System With USB Wall Charger Design – Motion Detection Secret HD Surveillance Camera With Wi-Fi – Mini Security Device For The House & The Office
A DISCREET SPY CAMERA: Do you need a camera to keep an eye on the nanny or to make your home safer? Then the hidden camera is exactly what you need! This tiny camera looks like a USB charger that you can connect to your smartphone, PC or other devices. You can now record videos discreetly and spy the nanny to make sure that your kids are safe!
WIFI Connection and APP is easy to use: The set up APP is easy and straightforward, you can stream live video from anywhere on your smartphone with Internet access. Even though no Internet access, you can insert the micro SD card into the nanny camera, it also can record the video automatically. When you want to playback videos from SD card in APP, just need to connect WIFI
MOTION DETECTION FUNCTION: As if it wasn't already practical enough, the spy camera also has a motion detection function. You can choose whether you want that function to be activated or not. But when it's activated, it will automatically start recording once it senses some kind of movement. In this way, it's snot wasting energy and space from the memory card.
WELL TESTED QUALITY: How can you know that the Oknas hidden camera is good quality? Let us inform you that we have conducted a 6-month testing on every single spying camera to make sure that it is durable and that it functions well. You can trust the Oknas hidden camera because it won't disappoint you.
A RISK-FREE PURCHASE: We want you to feel confident when making this purchase, that's why we have backed up our hidden camera with a 2 year manufacturer's warranty. All you have to do to secure this warranty is visit the Oknas website and register yourself. It's very simple, so visit the website now and don't miss out on this 2-year-long warranty!
That Doesn't Look A Camera
That's the point! The hidden camera actually looks like a USB adapter that you can connect to any electronic device.
It will help you record your nanny while you're gone, to make sure she treats your kids well! The nanny won't even notice it!
You can also record your pet to see if it's creating any mess, or you can use it as a security system for your house!
With Wi-Fi and A Memory Cart
Connect the spy camera to a device and let it record. The micro SD card (need to buy separately) will save everything so that you can watch it later.
Even though the hidden camera is very small, the video will be in high definition!
Record for as many hours as you want. Once the memory card is full, it won't stop working, it will automatically delete older files.
Activate The Motion Detection Function
Here at Oknas we want to make things easier for you. That's why we added the motion detection functionality to the spy camera.
You won't have to constantly turn on and off the camera. You can, instead, turn on the motion detection functionality and save time and effort.
The spy camera will start recording as soon as it senses motion near it. That's unbelievably convenient, isn't it?
Tested Quality And Guaranteed Satisfaction
The hidden camera has undergone 6-month-long testing, so we know that it works perfectly and that it will never fail you.
However, we want you to haze zero doubts when making this purchase, that's why we offer you a 2-year warranty.
To get the warranty, you simply need to register to our website. So hurry! Visit our website and register yourself!
Don't Miss Out! Scroll Up And Click The "Add to Cart" Button NOW!